Volunteers
Serve God for one year of your life...
take your chance and profit from it!
Are you young, committed, and open to new experience?
Are you interested in doing a voluntary year of social service or in joining the European Voluntary Service?
The voluntary year of social service or the European Voluntary Service are programmes that have been taken up by the YMCA (Young Men's Christian Association) of Baden in order to give young people between 18 and 26 years the opportunity to spend one year among other Christians and to gain valuable experience for their future life.
Living and working together
The team of the "Lebenshaus", a guest house of the YMCA Baden, consists of the regular staff and twelve young people who are willing to spend one year of their life serving God. We, the team of the "Lebenshaus", are all living and working together in a community, facing everyday challenges in different fields of work. We appreciate this way of life since we organize everyday life together and, therefore, can both help and learn from each other. We really look forward to young people who want to join our community for one year!
Practising faith together
Are you a convinced Christian, who wants to know Jesus more and more and who wants to experience his presence in everday life? Following the old monastic rule "ora et labora – pray and work", we start and end our days with a prayer in order to honour God. Additionally, there will be many seminars concerning issues of life and faith and there will also be special offers of counselling.
Living authentically
We do not want to present ourselves as a community of idealists ignoring the world's concerns. Since young people are increasingly searching for an authentical and honest way of life, we want to be a house with "open doors". We want to serve God and we want to live authentically – our behaviour shall testify to our faith.
One year with many opportunities...
Due to our rotation system, the young people will be employed in different fields of work throughout their year in the "Lebenshaus". These fields of work are:
organizing activities for our guests (especially for children)
assisting our cooks in the kitchen
working in the housekeeping
doing external works
being employed in the woodworking shop
What is it worth to you to do that?
We will...
equip you to serve Jesus in your future life
advise and support you by mentoring
supply you with board and lodging
pay the social insurances for you
pay you a monthly pocket money
You will...
grow in your relationship with God
gain valuable experience in different fields of work
profit from one year of orientation and from personal development
Therefore, it is a programme worth joining!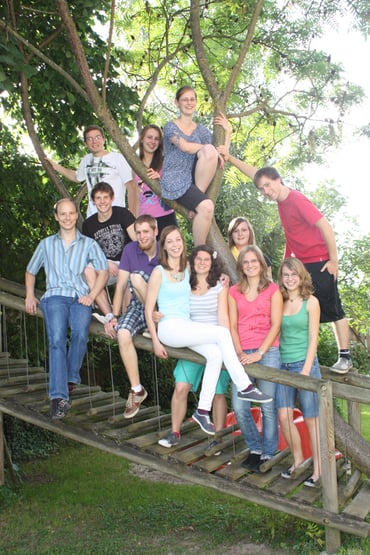 For further information concerning the voluntary year of social service or the European Voluntary Service, please do not hesitate to contact us. We look forward to hearing from you soon!
CVJM-Lebenshaus "Schloss Unteroewisheim"
Mühlweg 10,
D-76703 Kraichtal
E- Mail: lebenshaus@cvjmbaden.de
phone number: +49 7251-9824620